This page is designed to disseminate via the internet the contracting profile of the General Council of the Judiciary, ensuring transparency and public access to information on its contractual activity under Article 53 RDL3/2011.
Tenders of the General Council of Judicial Power
To access the tenders run by the contracting authority concerned, once inside Procurement Platform click on Tenders, as shown in the picture below.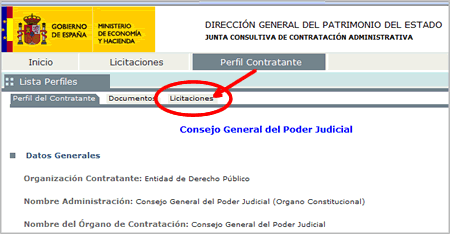 Steps to follow when accessing the tenders of the General Council of the Judiciary:
Access the Search option in the Tenders tab:
Select the option "Public Entity" in "Contracting Organisation".
In the field "Name of Administration", insert the following text "Consejo General del Poder Judicial" (without quotes).
If you know the file number, you may indicate this information in the appropriate field in order to carry out a more direct filtering. The format of the file numbers is NN/YYYYSO (NN: No. of file; YYYY: Year; for example: 19/2009SO).
To finish, click on the Search button and you will see the current tenders in the lower section. To access information click on the corresponding tender in the File column.